The Spanish Language Fair is an annual, competitive event designed to allow middle and high school students to showcase the language skills they have acquired by studying a foreign language.
Spanish Language Fair – Consists of competitions in the following categories:  Language bowl, humorous stories, impromptu conversations, impromptu talks, poetry recitations, prepared talks, show and tell, and skits.
Students are divided into the following categories: Middle/Intermediate School (Second Year Traditional and Any Year Advanced), Junior High School (Second Year Traditional, Third Year Traditional, and Any Year Advanced), and High School (Second Year Traditional, Third Year Traditional, Fourth Year Traditional, and Any Year Advanced).
The "Advanced" category includes all fifth-year Spanish students, immersion students, native/heritage Spanish speakers, and students who have lived in a Spanish-speaking country for an extended period of time.
1st year Spanish students cannot participate in the the Spanish Language Fair or Españolandia.
Españolandia — A simulated travel experience to a Spanish-speaking country that allows fair attendees to practice their conversational skills after completing their competitive events.
REGISTRATION GUIDELINES
1)  Registration for the 2019 Spanish Language Fair will open on Monday, February 4, 2019.
2)  Register online through this website when registration opens.
3)  Registration will close when 2,500 students have been registered (due to space limitations and fire code regulations).
4)  There is a registration limit of 100 students per school. There is a $4 registration fee for each student attending Españolandia.
5)  Only middle and high school students enrolled in Level 2 or higher are eligible to participate.
6)  Every student MUST participate in at least one competitive Spanish Language Fair event (one event outside of Españolandia ).
7)  Students may NOT come with the intent of attending Españolandia only. Participation in Españolandia is offered as a reward to those who have worked hard to prepare for the competitions.
8)  Sometimes, credit cards are denied if you do not use the exact same address as the one that appears on the credit card's billing statement.
Direct registration questions to SpanishFair@byu.edu or (801) 422-3196.
Thanks for your commitment to providing high quality language learning experiences for your students.  We look forward to seeing you in April!
BYU Provo Campus – Wilkinson Student Center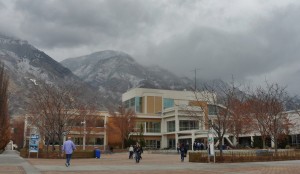 Note on Elementary School Participation:
We regret that BYU can no longer host elementary school students at any of our foreign language fairs, (including the Spanish Fair), because we can no longer accommodate the number of schools that wish to attend. However, UVU is now hosting an annual Dual Language Immersion Fair for 4th, 5th, and 6th-grade elementary students.  For more information on participating in UVU's Dual Language Immersion Fair please click here.
Questions? E-mail: SpanishFair@byu.edu